Law Office: The Sanders Firm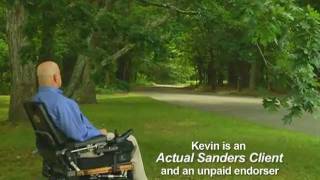 The Sanders Firm is a national law firm specializing in protecting the rights of innocent victims. Our personal injury lawyers represent clients in Long Island, and throughout New York.
A History of Helping People
In 1967, Stanley Sanders began specializing in personal injury law. Forty yea...
?>
The Sanders Firm is a national law firm specializing in protecting the rights of innocent victims. Our personal injury lawyers represent clients in Long Island, and throughout New York.

A History of Helping People
In 1967, Stanley Sanders began specializing in personal injury law. Forty years later, Sanders, Sanders, Block, Woycik, Viener & Grossman, P.C. and Sanders, Viener Grossman, LLP are both successful and prominent New York law firms - consistently achieving considerable settlements and recoveries for accident victims and those who suffered from corporate greed regarding the improper production and marketing of pharmaceuticals and medical devices.
Our clients include people injured as a result of automobile accidents, construction accidents, lead poisoning, police brutality, nursing home abuse, workplace and general negligence, product liability, medical malpractice; and those needing help with social security and workers' compensation matters. The firm is also equipped to handle defense matters, criminal, real estate, corporate, commercial litigation, matrimonial law and immigration law.
In 2003, Marc Grossman joined the firm as a Senior Partner lawyer. Mr. Grossman was a partner at the law firm of Mergel, Tubman & Grossman prior to joining the firm, bringing with him years of experience and success in both personal injury and commercial litigation. He has a loyal client base because he shared in Mr. Sanders' value system of putting the clients ahead of profits. Mr. Grossman believes that lawyers have a duty to serve the community and to protect those in need. Because of his pursuit of excellence in the field, Mr. Grossman was recently named one of the top 100 trial lawyers in New York State.
In addition to Mr. Grossman becoming a partner in 2003, Stanley and Phyllis Sanders made their son-in law Joseph Viener, their daughter Meryl Sanders Viener and son Douglas partners in the firm. Collectively, the next generation of Sanders in conjunction with Mr. Viener and Mr. Grossman are in place to ensure that the firm will continue to grow and prosper for years to come.
Together with Stanley Sanders, Marc Grossman saw the need for a separate firm to take on the huge drug companies that produced poor and ineffective products. Through the leadership of Marc Grossman and Meryl Sanders Viener, Sanders Viener Grossman, LLP formed to meet that goal in 2004. The firm successfully represented claimants against Merck for that company's improper conduct regarding the Vioxx drug. Additionally, the firm handles litigation against Pfizer and Medtronic for other defective drugs and products. Because of the firm's excellent work, Marc Grossman was able to become a member of the steering committee for the Avandia litigation against Glaxo SmithKline Beecham.
Collectively, the Sanders Firm entities will continue to grow and reach even greater heights in the future. Since we began our specialty, the area of personal injury law has grown increasingly complex. Laws have changed. Medical care is different. Regulations have been revised.
Through it all, we have maintained our reputation as leaders in our field by:
• Building a foundation of legal talent with the sharpest skills and the broadest experience.
• Creating a vast network of resources to support every case: researchers, engineers, medical experts, and sophisticated technologies.
• Providing each client with an extensive level of personal care and diligence.
As our firm has grown in size and success, we continue to maintain the essence of the mission we undertook when we began our highly specialized practice - to provide the highest and most comprehensive quality of legal guidance to those who have been injured in accidents through acts of negligence.
Resources Achieve Results
The Sanders Firm is best known for its ability to concentrate abundant resources on every single case.
Our growth reflects the successes we have achieved for our clients. The firm has proudly collected more than one hundred million dollars for our clients in the past five years. In 2000 alone, the firm has proudly recovered over 25 million dollars and in 2007 over 35 million dollars for our clients.
Our breadth and depth afford us the ability to negotiate an expeditious settlement, or to bring the most complex cases to a jury verdict - depending on the best interests of our clients.
Our size and scope allow us to assign a team of professionals to individual cases. Whenever necessary, we will involve paralegals, law clerks, investigators, medical and vocational experts, economists, accident reconstruction experts and a variety of lawyers in the research, preparation and management of each case. Our staff interpreters speak fluent Spanish, Russian, Polish, Chinese, Korean, French and Greek; and can converse in other languages. And, every case receives the personal, "hands-on" attention of the firm's senior partners.
Our firm's skilled attorneys address complex legal problems through various specialized departments: Medical Malpractice, Products Liability, Labor Law, Construction Accident Liability, Workers Compensation and Social Security, Lead Poisoning, Police Brutality, Nursing Home Abuse, and other Toxic Torts.
Every client is supported by an impressive array of technologies. We utilize elaborate audiovisual aids and other resources designed to educate juries about the details of each case. Our office relies on the most sophisticated computer technologies for research, information and communications purposes.
Above all, we distinguish ourselves by the personal and comprehensive care we provide to every single client. Our resources enable us to attend to every immediate and long-term need that may arise while we bring a personal injury case to a successful resolution. For example, securing benefits from government agencies, interceding with insurance companies, fighting for medical benefits and lost wages, and identifying and obtaining the full range of available assistance.
A Depth of Experience
Skill is a quality forged and formulated by years of experience.
The attorneys of Sanders, Sanders, Block, Woycik, Viener & Grossman have collectively accrued decades of experience focused on the complexities of personal injury law. Both Martin Block and Stanley Sanders have over thirty-five years of experience and the other senior partners have over twenty years.
Our skills have been honed in courtrooms, in front of juries, in arbitration and mediation hearings, and in settlement negotiations. And when you invest that amount of time in the highly specialized field of personal injury law, your experience becomes an expertise.
That is why our attorneys have become leaders and have been widely recognized for their proficiency - teaching trial advocacy and legal methods; lecturing at conferences, professional seminars and symposia throughout the region.
During the time that cases progress in our office, we keep our clients informed of what is occurring. We work for our clients and we want them to be aware of what is taking place. We believe that a well-informed client is a happy one. We pride ourselves in receiving many past client referrals.